If you're planning a trip to the bustling city of Medan in North Sumatra, Indonesia, consider staying at Aryaduta Medan. This luxury hotel is centrally located, offering easy access to the best attractions and activities around the area. Here's everything you need to know about this 5 Star Hotel.
Location Aryaduta Medan
Aryaduta Medan is located at Captain Maulana Lubis Street Number 08, Medan (KP 20112), making it a convenient location for both business and leisure travelers. The hotel is only a short distance from the Maimun Palace and the Great Mosque of Medan. The distance is about 3.5 km with an estimated time of approximately 12 minutes of driving. In addition, it is also close to popular culinary destinations on Jalan Semarang, Medan Kota District.
On the other hand, this hotel is opposite the Medan Mayor's Office and in front of it is the Medan City DPRD Office. From the top floor of the hotel, you can see the activities in the courtyard of the Medan Mayor's Office. And the Medan City DPRD Office, interesting isn't it?
Aryaduta Medan accommodation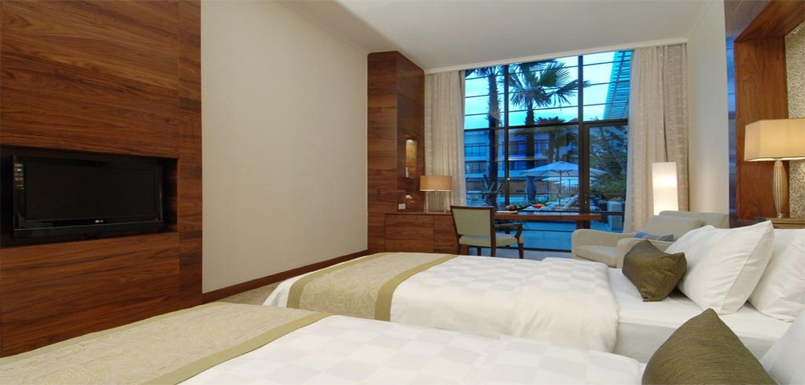 The hotel offers 195 spacious and comfortable guest rooms and suites. Each room is elegantly decorated and equipped with modern (5-star) amenities to ensure a comfortable stay. Guests can enjoy high-speed Wifi, a flat-screen TV with cable channels, a minibar and a comfortable bed with premium bedding. The following are the types of rooms and suites available at Aryaduta Medan.
Deluxe Room
Grand Deluxe Room
Premier Deluxe
Deluxe Suite
Business Suite
Pool Terrace
Junior Suite
Executive Suite
Aryaduta Suite
Presidential Suite
Apart from these facilities, guests staying in one of the rooms or suites at Aryaduta Medan can enjoy access to the hotel's swimming pool, fitness center and massage services. This hotel also has a restaurant that serves a variety of Indonesian and international dishes. You can enjoy free breakfast here.
Facility
Aryaduta Medan has various facilities and amenities to make your stay enjoyable and relaxing. Swim in the swimming pool or work out in the fitness center, besides that guests can also relax with a massage service. For more details, here's the review.
1. Swimming pool
The hotel has an outdoor swimming pool, complete with loungers and parasols. Moreover provides a refreshing escape from the heat of the city. This swimming pool is located on the 9th floor, consisting of 2 parts. Mamely the children's pool and the adult pool. The children's pool has a depth of 40 cm to 50 cm. While the adult pool has a depth of 1 meter to 1.2 meters. The swimming pool opening time starts from 06.00 AM – 08.00 PM. However, outside of this time the swimming pool cannot be used.
2. Fitness Center
In addition to the swimming pool, Aryaduta Medan has a fitness center located on the 9th floor. It has equipment, namely a treadmill, static bicycle and dumbbells. Allows guests to keep exercising even while on the move. This fitness center is open from 06.00 AM – 09.00 PM. And you need to pay attention to find out all the conditions that apply. In addition, there is also a changing room at the Fitness Center.
3. Massage Service
This massage service is located inside the hotel room offering a variety of body health services. Including medical therapy, massage therapy, and body care.
In addition, this hotel also has a restaurant serving a variety of Indonesian and international dishes. You can enjoy free breakfast at this restaurant from 06.00 AM to 09.00 AM. But it's different on weekends, breakfast starts at 06.00 AM to 10.30 AM. On the other hand, this 5-star property has several dining options while relaxing. Such as rooftop bars and coffee shops (maxx coffee).
Meetings and Events
The hotel has a ballroom and several function rooms, making it the ideal venue for meetings, conferences and events. Additionally The ballroom can accommodate up to 1,000 guests, and the function room can host smaller events. Each room is equipped with modern audiovisual equipment and Wi-Fi. There is also a meeting room and smaller function room available. Therefore, these spaces are ideal for corporate events, weddings and other special events.
History of Aryaduta Medan
Aryaduta Medan first opened in 1974 and since then has undergone several renovations to update its facilities and amenities. The hotel has maintained its classic elegance while incorporating modern comforts, making it a popular choice for tourists in Medan.
In conclusion, Aryaduta Medan is a luxurious and comfortable hotel in downtown Medan. With elegant accommodation, various facilities, and a convenient location. This hotel is the best choice for both business and leisure travelers. Book your lodging at seindotravel.co.id right now! And get discount promos until July 13, 2023. For an unforgettable experience in Medan City, North Sumatra, Indonesia.
Read also : Hotel Ciwidey: Private Pool A Relaxing Vacation Spot